NY SEE IT ALL!
This is the Highest Rated Bus Tour in New York City.
Customer ratings on both Trip Advisor and Viator Tours rank the NY See It All! Tour the highest of all the bus tours in New York City.
Why should you take the highest rated bus tour in New York City? Here are a few of the reasons:

NY SEE IT ALL! is NYC's Only Comprehensive Guided Tour. It combines a bus tour with short walks and a boat cruise. This tour will show you everything Manhattan has to offer without leaving you on your own to get lost or miss attractions.

Our tour guides hop off with our guests. Your tour guide will hop off the bus with you at each stop, showing you each attraction in detail. This 5-star service is unparalleled in New York City. You will be so happy you chose our tour because we will show you New York City in ways you can't even begin to achieve on your own. Don't take our word for it. Read what our customers say.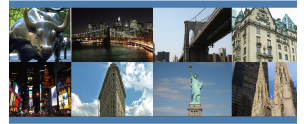 The boat cruise rocks. Sail from South Street Seaport straight up to the Statue of Liberty. Get the best pictures possible without wasting three hours of your life in line. Sail under the Brooklyn Bridge for spectacular views. The skyline of Lower Manhattan is super impressive too.

Wait! There's more! Free bottled water is OnBoard during the tour. Our shuttle buses are climate controlled, so they're cool in summer and warm in winter. The shuttle waits for you at each attraction so you don't have to stand around waiting for the next empty bus. These are just a few of the reasons to take this tour. See more reasons on our Top 10 page.

Our itinerary speaks for itself. This is the stuff you want to see:
Get out at all of the following stops:
We also see the STATUE OF LIBERTY up close from the boat cruise. The stop at Madison Square Park gives you the best photo opportunity in the city for the EMPIRE STATE BUILDING.
See the following attractions from the comfort of the shuttle, boat, or other attractions (we do not stop at these):