Strawberry Fields
written by the OnBoard New York Tours Staff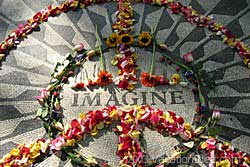 During our stop at The Dakota, no tour would be complete without a visit to one of the city's most peaceful and tranquil islands of calm, Strawberry Fields.
Located across the street from the scene of John Lennon's untimely demise, Strawberry Fields is a beautiful 2.5 acre park located just inside of Central Park.
Strawberry Fields in Central Park
Opened on John Lennon's 45th birthday, Oct.9, 1985, this idyllic oasis offers a calm respite from the rigors of Manhattan.
Named after the famous Beatles song "Strawberry Fields Forever" penned in 1967 by Lennon, this international garden of peace features the plantings of 121 nations. While many search in vain for strawberry plants here, the fact is that Strawberry Fields was the name of an orphanage in Liverpool where John spent a lot of time hanging out with other lads.
This tear-drop-shaped parcel of land is shaded by stately American elms that gently sway down curving paths amidst a profusion of shrubs, bountiful flowerbeds and isolated groves of trees. Beautifully maintained yet naturalistic, this free-flowing park landscape was designed by landscape architect Bruce Kelly. The site was chosen by John's wife, Yoko Ono, as this was one of their favorite sections of the city.
Perhaps the most notable element in the park is the IMAGINE mosaic, a gift from the city of Naples.  Fashioned by Italian craftsmen, this black-and-white design is based on a mosaic found in Pompeii. Named after the popular song written by Lennon, this is the only specific tribute made to the musician.
Most days one can find a remembrance left behind, whether in the form of flowers, flickering candles, a poem, sketches, or old photographs. And sometimes one can still partake of the gentle sounds of a  Lennon song played from a nearby bench.