New York City Night Lights Tour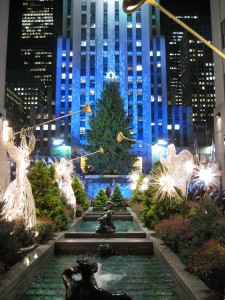 Bright lights, Big City. Enjoy The Big Apple aglow in all its splendor. Start your tour on Times Square, and ride down famous 5th Avenue. See the shops on 5th Avenue, NY Public Library, and more! Make stops at Washington Square Park, City Hall, Madison Square Park, and Grand Central Terminal. Head through Greenwich Village and cross over Manhattan Bridge to Fulton Ferry Landing in Brooklyn to experience great views of the Brooklyn, Manhattan, and Williamsburg Bridges and the mesmerizing lights of Manhattan. Marvel at the famous view of Lower Manhattan with all its twinkling brilliance (Think Woody Allen's Manhattan). The NY See The Lights! Tour works just like our famous NY See It All! tours – get off the bus at major stops, free refreshments on board, and the best tour guides and drivers in the city.
This tour runs from April – November. It is closed in January & February, and is the

Holiday Lights Tour

from November 30 – January 5.
NY SEE THE LIGHTS! TOUR Itinerary:
Guided walks take you to:
Washington Square Park (Famous Washington Sq Arch)
New York City Hall (City Hall Fountain)
Fulton Ferry Landing in Brooklyn
Madison Square Park (Empire State Building, Flatiron Building, Woolworth Building, and MetLife Tower)
Grand Central Terminal
Along the way, you'll also see:
Radio City
5 th Avenue
Rockefeller Plaza
Radio City
Greenwich Village
Canal Street
Manhattan Bridge
Williamsburg Bridge
Chinatown
Hudson River
East River
Times Square
NOTE: From November 30 to January 5, the NY SEE THE LIGHTS! Tour changes to a holiday itinerary and becomes the NY SEE THE HOLIDAY LIGHTS! Tour. Click here for more information.