Fall Foliage Tour from NYC
Are you looking for an outing during your NYC trip? You do not want to miss our Fall Foliage trip up the Palisades up to West Point. This trip will be one of the highlights of your trip.
The Hudson River Valley and Palisades
Fall foliage in the Hudson Valley is one of nature's treasures. Head over the majestic George Washington Bridge, dubbed "the most beautiful bridge in the world" by the architect Le Corbusier. Our journey begins in earnest on the Palisades Parkway, skirting the 550-foot-high Palisades along the Hudson River. Travel through luxuriant foliage suddenly awash in yellows, oranges, and reds. Take a break at the Lookout Inn, the highest point along the Palisades. Since 1937, this refreshment stand has greeted visitors with spectacular views across Westchester County to Long Island Sound. Our trek continues past Bear Mountain, once site of the premier ski jump in the U.S. Then, we skirt past the Bear Mountain Bridge, the first bridge across the Hudson between New York and Albany. Just past the site of the Revolutionary War Battle of Fort Montgomery, we head into West Point. America's oldest military academy was the training ground for Ulysses S. Grant, Robert E. Lee, John Pershing, Omar Bradley, Douglas MacArthur, and Dwight Eisenhower. Take a break for a light meal in the scenic town of West Point, then we'll head back to the city past miles of rolling hills blanketed by colorful maples, aspens, oaks, dogwoods, hickories and birches.
The Epoch Times wrote an article about the OnBoard NY See The Foliage! Tour here. Check it out because they posted several pictures taken from the tour.
Call us to book for 2012! 212-852-4821
Itinerary
· George Washington Bridge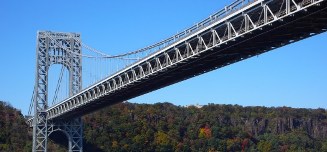 · Palisades Parkway
· Point Lookout
· Bear Mountain
· Bear Mountain Bridge
· State Line Lookout Point
(Optimal viewing point for Foliage)
· Pomona, NY – Country Orchard
Fall Foliage Dates, Times & Pricing
In 2012, the NY See The Foliage! Tour will operate from October 13 to November 20. Keep in mind that we cannot control when the leaves change. If you take this tour on October 15 or November 20, there is a strong chance the foliage will not have started or will be over. The trip is still fantastic, even when the trees are bare or green.
The tour departs every day at 9:00am. Tickets are $59.99 per person.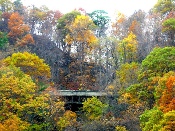 You can also book this tour as a private tour. We'll pick you up and drop you off at your hotel. You can change the itinerary to fit your personal desires. Groups of 12 or less can book it for $1250 for a four hour trip at either 8am or 1pm. Groups of 4 or less can take it as a VIP Tour in a luxury SUV for $950. Call us at 1-212-852-4821 to book your private tour.