Christmas in New York City
Let's face it: New York City knows how to do the holidays like no other city in the world.
Even before the first snowflakes fall, the city transforms into a magical winter wonderland. Skaters do figure-eights in Central Park, the Rockettes kick up their heels at Radio City Music Hall and Sugar Plum Fairies drift across the stage at Lincoln Center.
So if the Big Apple is beckoning you this holiday season, here are a few things you might want to put on your to-do list.
NY See The Holiday Lights! Tour
See the Holiday Lights during Christmas in New York City. Just book a NY SEE THE LIGHTS! Tour during the holidays and you'll see New York City at its finest.
Get more information about our NY SEE THE HOLIDAY LIGHTS! Tour here.
---
Christmas Holiday Shows and Events in New York City
Radio City Christmas Spectacular
– The Rockettes kick up their heels this year to a fresh routine of The Twelve Days of Christmas and audience members get the full effect with a flying LED screen. (Radio City Music Hall, 1260 6th Avenue, New York, NY 10020; November 7 – December 30; $40 – $100)
Winter's Eve at Lincoln Square
– Sidewalks come alive with street performances by musicians, jugglers, stilt walkers and much more.
(Lincoln Square- Broadway from Time Warner Center at Columbus Circle to 68th Street; December 1)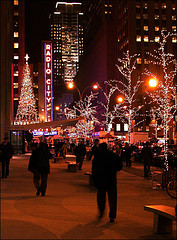 The Nutcracker
– Angels, snowflakes and fairies galore prance delicately across the Lincoln Center stage in a show that delights children and adult alike.
(New York State Theater, Columbus Avenue & 63rd Street, Lincoln Center, New York, NY 10023; November 28 – January 3; $10 – $215)
Grand Central Terminal's Kaleidoscope Light Show
– Christmas lights seem to diminish slightly next to the grand light displays on the Sky Ceiling. See this on the NY See The Holiday Lights! Tour. (Grand Central Terminal, E 42nd St at Vanderbilt Ave, New York, NY 10017; November 30 – December 31, 2008; Free)
Holiday Activities in NYC – Christmas in New York City
NYC Winter Restaurant Week 2008– Features three course or five course prix-fixe menus from New York City hot spots like Del Posto, Oceana and Safran for a fraction of the price. (January 21-25 and January 28- February 1st)
Lucky Magazine Lucky Shops Event– Designer merchandise with bargain price tags, and a portion of proceeds benefit the Robin Hood Foundation. Need we say more?(Metropolitan Pavilion, 125 W. 18th St; Nov. 7-8)
Holiday Gift Fair
(November 23-November 24, 2009; Grand Central Terminal; 87 E. 42nd St. at Park Ave.)
Stop by the Grand Central Terminal for a warm and festive holiday shopping spree. The annually held Holiday Fair offers fun and original gift ideas and a merry atmosphere.
Winter's Eve
(November 30, 2009; Lincoln Center for the Performing Arts; 70 Lincoln Center Plaza (at Columbus Ave. and W. 63rd St.; 5:30pm, www.winterseve.org)
The West Side Lincoln Square neighborhood changes drastically during Christmas in New York City into a gorgeous winter wonderland with a tree lighting in Dante Park, activities for children and adults alike, street performers, music, food and more.
Original Women Holiday Celebration and Shopping Event– Delicate hand crafted jewelry with 10% of proceeds donated to CARE. (Society of Illustrators: 128 East 63rd Street, between Lex. and Park Ave.; Monday, December 8, 2008, 6:00 – 9:00 pm)
Holiday Window Displays
See the 5th Avenue Window displays on the NY See The Holiday Lights! Tour.
Lord & Taylor Holiday Window Displays (424 Fifth Avenue at 38th Street)
Bergdorf Goodman Holiday Window Displays (Fifth Avenue and 57th Street)
Saks Fifth Avenue Holiday Window Displays (611 Fifth Avenue)
Barneys New York Christmas Window Displays (660 Madison Avenue at 61st St.)
Bloomingdales Christmas Window Displays (Lexington Avenue between 59th Street and 60th Street)
Macy's Christmas Window Displays (Herald Square, between 34th and 35th on Broadway)
Not Just For Kids
The Museum of the City of New York 2008 Children's Holiday Party-Arts, crafts, magic shows, a buffet supper and meeting with Santa Claus is enough to get any child in the holiday spirit. (Museum of the City of New York 1220 Fifth Avenue; Monday, December 8, from 3-6pm; visit http://www.mcny.org/support/CHP.html for ticket information)
8th Annual Grand Central Holiday Train Show
(November 25, 2009-January 18, 2010; New York Transit Museum Gallery Annex; Grand Central Terminal, 42nd St. b/w Vanderbilt & Lexington Aves)
The New York Transit Museum Gallery at Grand Central Terminal is returning with its 8th annual Holiday Train Show which features a full train track with a fully functioning train and miniature New York City background. The vintage trains made by Lionel, American Flyer and Louis Marx & Company, which date as far back as the 1920's, will also be on display.
New York Botanical Garden Holiday Train Show
(November 21, 2009; January 10, 2010; The New York Botanical Garden; Bronx River Parkway at Fordham Road)
The New York Botanical Garden's Holiday Train Show is a beautiful scene of The Big Apple built entirely out of plants and natural material like seeds, bark and leaves. A few of the included landmarks are the Brooklyn Bridge and The Statue of Liberty constructed by Paul Busse. The miniature trains are also incredibly impressive works of art to view and run the familiar New York City Landscape.
New York Zoos
Wild Holiday Party and Presents to the Animals– The inhabitants of Central Park Zoo unwrap scrumptious snacks as onlookers watch in delight.
(Central Park Zoo, 64th St and Fifth Ave, New York, NY 10020; December 6 – December 21, 2008; Adult $8; Senior $4; Child (3-12) $3)
Holiday Lights at the Bronx Zoo– Features favorites like The Holiday Express Train and Polar Bear Express Experience along with music, story telling and live reindeer. (Open Nov. 22 – Dec. 15 on Fridays & Saturdays. Dec. 16 – Jan. 6 nightly (closed Dec. 24); Tickets: $10 adults, $6 children. Rides $2 additional)
Museums in New York City
'Tis the Season
(November 24, 2009-January 6, 2010; The Metropolitan Museum of Art; 1000 Fifth Ave. at 82nd St.; www.metmuseum.org)
The Medieval Sculpture Hall at The Metropolitan Museum of Art is hosting its annual Christmas tree revealing which features a gorgeous tree trimmed and decorated with 18th century ornaments and a beautifully detailed Neapolitan Nativity scene. The event will also include festive décor and seasonal music.
The American Museum of Natural History Holiday Dinosaurs and Origami Tree– Over 500 origami creations construct a larger and life tree and 19 ft barosaurs dazzle spectators. (79 Street And Central Park West; November 24, 2008—January 1, 2009)
Trees and Lights
Christmas in New York City
Central Park Holiday Lighting– Crafts, carolers, cookies and hot chocolate surround the holiday lights in Central Park.
Madison Square Park Holiday Tree Lighting– Tuesday, December 9, 2008
4:30 p.m
Hanukkah in New York City– The eight-day Festival of Lights begins on December 21, 2008.
Rockefeller Center Christmas Tree Guide– December 3, 2008 from 7-9 p.m. This is a must if you are spending Christmas in New York City.
South Street Tree Lighting Ceremony
(November 27, 2009; South Street Seaport; Pier 17, Fulton & South Streets; www.southstreetseaport.com)
Soon enough, the bright lights of New York City are going to be drowned out by the beautiful lights of the holiday. The South Street Seaport is kicking it off with a traditional tree lighting ceremony where a 50 ft. tree will be lit up the day after Thanksgiving and will also feature carolers and surrounding holiday shopping.
We hope that this page has helped you plan your stay during Christmas in New York City.