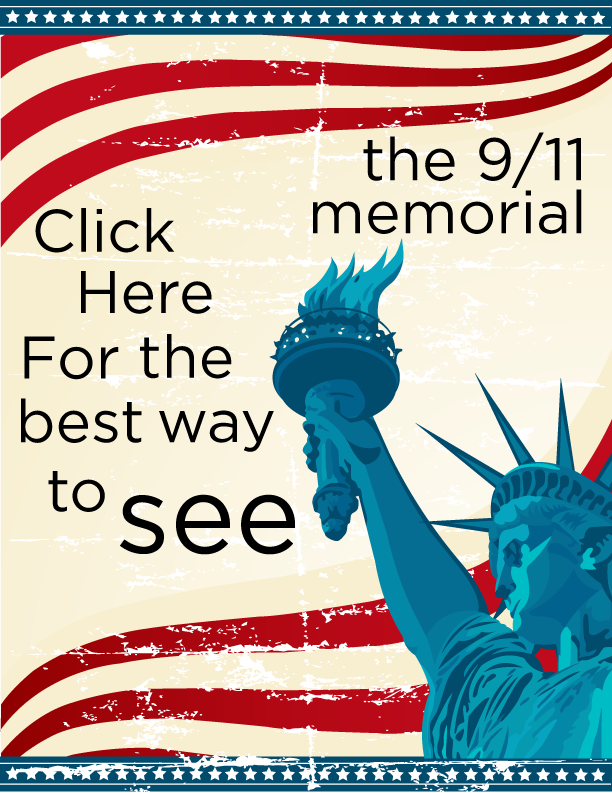 The NY See It All! Tour from OnBoard Tours has been the highest rated bus tour in NYC for the past three years on Viator Tours. OnBoard New York Tours is proud to be a 2010 Concierge Choice Awards Winner and a 2011 and 2013 TripAdvisor Certificate of Excellence winner. Our NY See It All! Tour is the perfect way to see all New York City's best attractions. This NYC Tour combines a bus tour, a yacht cruise, and short guided walks to see the attractions up close. Your tour guide will hop off with you at each stop, so it's great for kids and adults of all ages. The NY See It All! Tour is extremely popular, and routinely sells out. Please book early if you plan to take this NYC tour. Click the link below to reserve your seats.
Our New York City tours format is preferred 2 to 1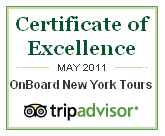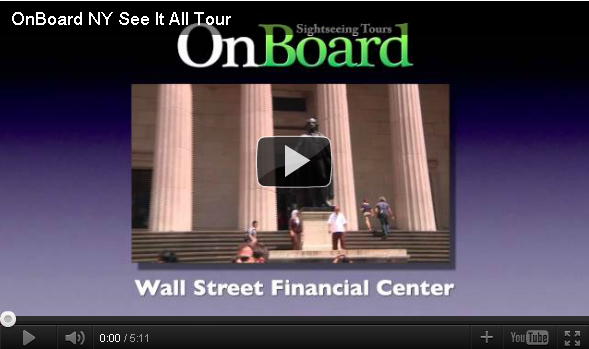 A survey of 1000 tourists to Washington DC and New York City confirms that visitors prefer the OnBoard New York City tours format to the hop-on-hop-off double decker tours. Visitors prefer our smaller vehicles and smaller groups, which makes your New York tour more personal. Most importantly, our tour guides hop off the bus with you at each tour stop. Visitors raved about the free bottled water on ice during their New York City tours. Hot or Cold? Our shuttles are climate controlled, so you aren't sitting on top of a bus baking in the sun or getting drenched when it rains. For more, check out the Top 10 Reasons Visitors Love OnBoard New York Tours.
I've taken many tours around the world, and yours was easily the best. I can't imagine a better overview of New York's main attractions.
View More Customer Testimonials
I recommend this tour to anyone who is visiting New York City for the first time or the first time in a long time. Thank you for a job well done. Royce & Amy L.
Why Leave the Guide Behind?
Ours hop off with you! Your tour guide and shuttle bus will stay with you the entire time - even when you hop off to see and hear about all the spectacular attractions in NYC. We believe that you shouldn't leave your tour guide behind when you want to see attractions up close. This one fact sets us apart from the other New York City tour companies. Trust us, you don't want to be waiting in line for the next hop-on, hop-off bus to come, hoping that the next one will have an empty seat. If you book one of our New York City tours, you will have a reserved seat for the entire tour.
Things to Do in New York City
Click on the title to see the entire post, or click on the "posted in" link for more posts.
July 6, 2012 | Posted in New York City Sightseeing Tours
Our tours are the work of hundreds of years of combined experience in seeing New York City.  We have perfected a tour that shows you everything you came to see in an efficient format.  The tour is non-stop content.  You will be amazed how much you will experience and learn about on one tour.  Our […]
March 6, 2012 | Posted in NYC Things to Do
I grew up watching Seinfeld reruns every night before bed. I loved his brand of what I call "personal observation" humor. In fact, my favorite part of the show was the end credits where Seinfeld took to the stage, pointing out the ridiculousness of every day life. Which is why I'm personally excited to announce […]
November 22, 2011 | Posted in Social Good
Today, New York's highest rated bus tour has chosen to be apart of something great. On November 22nd, OnBoard Tours and FeedingNYC will share a common goal: to bring smiles to the faces of families in need. Since 2001, FeedingNYC has provided meals to thousands of families all across New York. November 2011 marks its […]
| Posted in New York City Sightseeing Tours
Here is a great description of the OnBoard NY See It All! Tour from the New York Times. This gives a good flavor for the tour, which is unlike any other tour in New York City. http://www.nytimes.com/2011/11/18/arts/touring-new-york-city-inside-yet-out.html?_r=1&scp=10&sq=onboard&st=Search#