The NY See It All! Tour from OnBoard Tours has been educating, entertaining, and delighting NYC visitors for over ten years. OnBoard New York Tours is proud to be a multiple-time nominee and winner of the Concierge Choice Award for tours and a perennial TripAdvisor Certificate of Excellence winner. Our NY See It All! Tour is the perfect way to see all New York City's best attractions. This NYC guided tour combines a bus tour, a cruise on the world-famous Staten Island Ferry, and short guided walks to see the attractions up close. Your tour guide will hop off with you at each stop, so it's great for kids and adults of all ages. The NY See It All! Tour is extremely popular, and routinely sells out. Please book early if you plan to take this NYC tour. Click the link below to reserve your seats.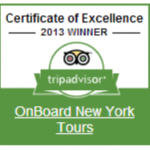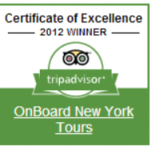 Things to Do in New York City
Click on the title to see the entire post, or click on the "posted in" link for more posts.